Al Pacino and the Chipmunks / That's What Super Friends Are For is the 20th episode of MAD Season 2, and the 46th overall episode of MAD.
Episode Summary
Al Pacino and the Chipmunks: Alvin and the Chipmunks get washed up on an island and get a new member for their band.
That's What Superfriends Are For: The DC Comics superheroes sing a song about the virtues of super friendship.
Segments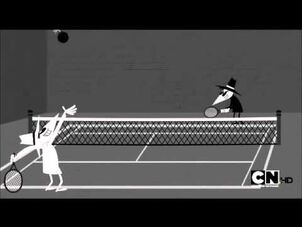 Gallery
Transcript
Trivia
This is the first time I Hate My Teenage Daughter appeared.
This is the second time Spy vs. Spy was lineless, and the second time the MAD Security Cam appeared directly before Spy vs. Spy.
This is the third time Alvin and the Chipmunks showed up, and the third time MAD does a musical segment.
11th appearance of the MAD Security Cam segment.
Fifth appearance of the Bad Idea segment. The previous appearances were:
Voices
Community content is available under
CC-BY-SA
unless otherwise noted.