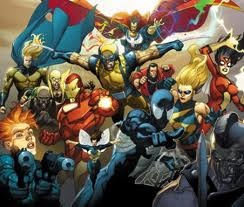 Summary of Team
The Avengers is a team of superheroes, appearing in magazines published by Marvel Comics. The team made its debut in The Avengers #1 (Sept. 1963), and was created by writer-editor Stan Lee and artist / co-plotter Jack Kirby, following the trend of super-hero teams after the success of DC Comics with the Justice League.
Labeled "Earth's Mightiest Heroes", the Avengers originally consisted of Ant-Man (Dr. Hank Pym), Wasp (Janet Van Dyne), Thor, Iron Man (Tony Stark), and the Hulk (at a time when the Hulk was more intelligent). The original Captain America was discovered by the team in issue #4, trapped in ice, and he joined the group when they revived him. The rotating roster has become a hallmark of the team, although one theme remains consistent: the Avengers fight "the foes no single superhero can withstand." The team, famous for its battle cry of "Avengers Assemble!", has featured humans, mutants, robots, gods, aliens, supernatural beings, and even former villains. An animated television series, The Avengers: Earth's Mightiest Heroes, premiered on October 20, 2010. A feature film is set to be released May 4, 2012.
For more information about the Avengers, visit here or here.
Appearances in Show
Members seen in in MAD
Community content is available under
CC-BY-SA
unless otherwise noted.