The Bad Idea segment shows random ideas and numbers.
1. Bad Idea #771: Unicorn on the Cob - If you take a bite of unicorn on the cob, it will upset the unicorn and you will take off along with the unicorn.
Parody: Unicorn and Corn on the Cob
2. Bad Idea #267: Strobe Lighthouse - If you have a party with a strobe lighthouse, a passing ship will crash.
Parody: Strobe Light and a Lighthouse
3. Bad Idea #21: Birdfeeder Earrings - If you wear birdfeeder earrings, the birds will attack you.
Parody: Birdfeeders and Earrings
4. Bad Idea #554: Convertible Submarine - Let's just say, you need to put a top on.
Parody: Convertibles and Submarines
5. Bad Idea #214: Mustache Comb-Over - Don't even think of trying this at home.
Parody: Mustache and a Comb-Over
6. Bad Idea #317: Black Hole Bungee Jumping - If you go black hole bungee jumping, you might get smacked by a meteor.
Parody: Black Hole and Bungee Jumping
7. Bad Idea #827: Strawberry Scented Sleeping Bags - If you go camping with strawberry scented sleeping bags, it will attract wild animals.
Parody: Strawberry Scented Markers and Sleeping Bags
8. Bad Idea #894: Launch Box - If you have lunch with a launch box, you will take off along with it.
Parody: Lunch Box
9. Bad Idea #19: Bear Room Dancing - Let's just say, never bump into a bear, unless he doesn't care about being bumped.
Parody: Ballroom Dancing and Bears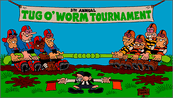 10. Bad Idea #211: Tug-o-Worm - If you play Tug-o-Worm, the worm will break and slime will splatter everywhere. Yuck!
Parody: Tug of War
11. Bad Idea #7: Gastronaut - If you're a gastronaut, try to watch where you're going.
Parody: Astronaut
12. Bad Idea #388: Tancakes - Let's just say, don't eat this at home, or anywhere else.
Parody: Pancakes
13. Bad Idea #6: Russell Scarecrow - When Russell Scarecrow sees crows in the garden, he has a fit and throws a telephone to get rid of them.
Parody: Russell Crowe and Scarecrow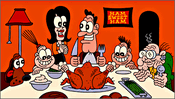 14. Bad Idea #24: Turkey Gumstick - If you eat a turkey gumstick, you will make a big bubble and it will burst everywhere. Messy isn't it?
Parody: Turkey Drumstick
15. Bad Idea #445: The Girafft - Let's just say, it's not the best way to avoid a flood.
Parody: Giraffe and a Raft
16. Bad Idea #100: Juice Boxing Gloves - If one of the boxers has juice boxing gloves in his hands, he will cause the boxes to burst out the juice, covering both boxers in juice.
Parody: Juice Box and Boxing Gloves
Trivia
This resembles Time Travel, Club Moon, Cullen Clear, Maximum Security Diary Vault, Shazamwich!, Sassie, and Gandalf's 3-Ring Binder.
There are 16 bad ideas, and the number order goes like this: 6, 7, 19, 21, 24, 100, 211, 214, 267, 317, 388, 445, 554, 771, 827, 894.
Most of the Bad Idea segments are Mike Wartella segments.
There are 10 episodes of MAD that have featured the Bad Idea segment. That's 10, count 'em, 10!
In Puny, it's shown as "Bad Idea #247: Beehive Pinata".
Community content is available under
CC-BY-SA
unless otherwise noted.