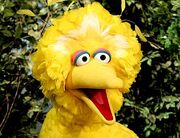 Summary of CharacterEdit
Big Bird is the famous main character on Sesame Street. He is a giant yellow bird with a child-like personality.
Character Appearance in Show Edit
He is mostly voiced by Kevin Shinick in Season 1, then he was voiced by Ben Diskin in Season 2 and Victor Yerrid in Season 4 . . . .