Skit from The Buzz Identity/Two and a Half Man
This Ad is a parody of Club Med.
Transcript
(Announcer) Being a werewolf is awesome!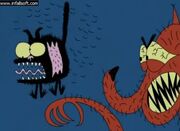 The only drawback? You have to wait the whole month to enjoy it!
That's why you deserve a trip to Club Moon, the werewolves only resort.
Located on the beautiful Planet Uranus. Holds to 27, count 'em, 27 moons.
So now you can be a werewolf 27 times as much!
And our state-of-the-yard shuttle to wish your furry little butts directly to Club Moon.
(Wolf 1) Wait a minute. Werewolves can't survive in space!
Well, no kidding!
Club Moon awarded the silver bullet of excellence and brought to you by H.O.W.L, Humans Ousting Werewolves League.