Summary of TV Show
Codename: Kids Next Door, also known as Kids Next Door or by its acronym KND, is an American animated television series created by Tom Warburton and produced by Curious Pictures in Santa Monica, California. The series debuted on Cartoon Network on December 6, 2002 and aired its final episode on January 25, 2008. The series came about as the result of a viewer's poll by Cartoon Network.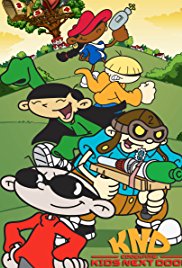 The main characters of the series are five 10-year-old children who operate from their high-tech tree house. Their mission is to fight "crimes" against children (such as homework and flossing) committed by adults, senior citizens, teenagers, and other evil children. They make up what is known as Sector V of a worldwide organization called the Kids Next Door. The main characters are team leader Nigel Uno aka Numbuh One, pilot and tech specialist Hoagie P. Gilligan Jr. aka Numbuh Two, medic Kuki Sanban aka Numbuh Three, hand-to-hand combat expert Wally Beatles aka Numbuh Four, and spy/second-in-command Abby Lincoln aka Numbuh Five. The show was also part of Cartoon Network's series, Cartoon Cartoons, and is the 13th Cartoon of the series.
On April 13, 2012, this series returned to Cartoon Network in re-runs on the revived block, "Cartoon Planet".
For more information about Codename: Kids Next Door, visit here.
Appearances in MAD
Community content is available under
CC-BY-SA
unless otherwise noted.