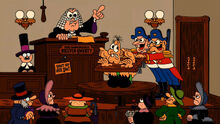 This Mike Wartella cartoon is from the episode RiOa / Thomas the Unstoppable Tank Engine.
Summary of Skit
TBA
Transcript
Judge: Sir Harry Perkins, this court hereby sentences you ..... to dance!
(dance music plays and everybody dances and cheers)
(Other person whispers something in Judge's ear)
Judge: Oh wait.
(shuts music off)
Judge: sorry it says "Death". My Mistake. Off with his head!
(soldiers take Harry away)
Harry: ahhhhh!
(Judge rips off robe starts dancing while the music come on again)
Trivia
TBA
Community content is available under
CC-BY-SA
unless otherwise noted.