Summary of Character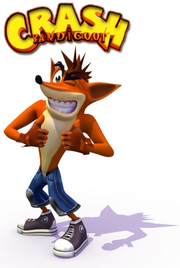 Crash Bandicoot, or simply Crash, is a title character and the primary protagonist of the Crash Bandicoot series. Introduced in the 1996 video game Crash Bandicoot, Crash is an Eastern Barred Bandicoot that was genetically enhanced by the series' primary antagonist Doctor Neo Cortex and was soon banished from Cortex's castle for his perceived unworthiness. Throughout the series, Crash acts as the opposition against Cortex and his schemes for world domination. While Crash has a number of offensive maneuvers at his disposal, his most distinctive technique is one in which he spins like a tornado at high speeds and knocks away anything that he strikes.
Crash was created by Andy Gavin and Jason Rubin, and was originally designed by Charles Zembillas. Crash was intended to be a mascot character for Sony to use to compete against Nintendo's Mario and Sega's Sonic the Hedgehog. Before Crash was given his name (which stems from the visceral reaction to the character's destruction of boxes), he was referred to as "Willie the Wombat" for much of the duration of the first game's production. Crash has drawn comparisons to Mario and Sonic the Hedgehog by reviewers. His animations have been praised, and his voice has been criticized, while his redesign in the Radical Entertainment games has drawn mixed reactions.
For more information about Crash Bandicoot, visit the Series Page, here, or here.
Character Appearances in MAD
Community content is available under
CC-BY-SA
unless otherwise noted.