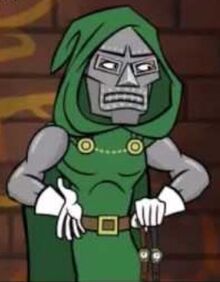 Summary of Character
Victor von Doom (also known as Doctor Doom) is a fictional character who appears in Marvel Comics publications. Created by Stan Lee and Jack Kirby, the character first appeared in Fantastic Four #5 (July 1962) wearing his trademark metal mask and green cloak. The son of a gypsy witch, Doom is a recurring supervillain, arch enemy of the Fantastic Four, and leader of the fictional nation of Latveria. He is both a genius inventor and a sorcerer, and has served as a primary antagonist and occasional protagonist in the Marvel continuity since his creation. Doom's most famous opponents include the Fantastic Four, Spider-Man, Doctor Strange, the Avengers, the X-Men, Punisher, Blade, Iron Man, and even Silver Surfer.
For more information about Dr. Doom, visit here.
Character Appearances in MAD
Community content is available under
CC-BY-SA
unless otherwise noted.