This segment is from the episode Fantastic Megan Fox / MAD vs. Wild.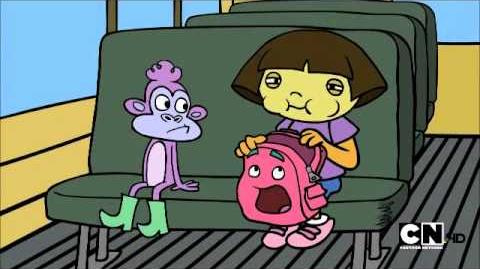 Transcript
Title
: Dora the Explorer in
The Road to Recovery
Backpack (sings): I'm the Backpack, the Backpack, the Backpack!
Dora: I don't feel so well.
Backpack: Hey, hey, hey! What are you doing?
(Dora vomits into Backpack.)
Backpack (gurgles): I'm the Backpack, the Backpack, the Backpack!
Trivia
This is the first time Dora the Explorer gets spoofed.
In this sketch, Boots is purple and light purple instead of light blue and yellow, and he has green elf-like boots instead of red rubber boots. He is also missing is tail, and the top of his hair more poofy than the actual Boots.
Dora looks slightly different, too. She has slightly different hair, purple shorts instead of orange, and pink shoes and white socks instead of white shoes and yellow socks.
Backpack is pink instead of purple and has pink eyebrows instead of yellow.
The Backpack's song sounds like a hybrid of Map's "I'm the Map" song and Backpack's song in the actual show.