Summary of Movie
1984 Version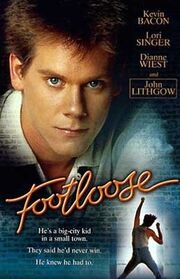 Footloose is a 1984 American musical-drama film directed by Herbert Ross. It tells the story of Ren McCormack (Kevin Bacon), an upbeat Chicago teen who moves to a small town in which, as a result of the efforts of a local minister (John Lithgow), dancing and rock music have been banned.
The film is loosely based on events that took place in the small, rural, and religious community of Elmore City, Oklahoma.
2011 Version
Footloose is a 2011 American dance film directed by Craig Brewer. It is a remake of the 1984 film of the same name and stars Kenny Wormald, Julianne Hough, Dennis Quaid, and Andie MacDowell. The film follows a young man who moves from Boston to a small southern town and protests the town's ban against dancing.
Filming took place from September to November 2010 in Georgia. It was released in Australia and New Zealand on October 6, 2011 and in North America on October 14, 2011. It grossed $15.5 million in its opening weekend and was met with generally positive reaction from critics, although it has received negative comments for closely following the original film.
For more information about Footloose, visit here or here.
Appearances in MAD
Community content is available under
CC-BY-SA
unless otherwise noted.