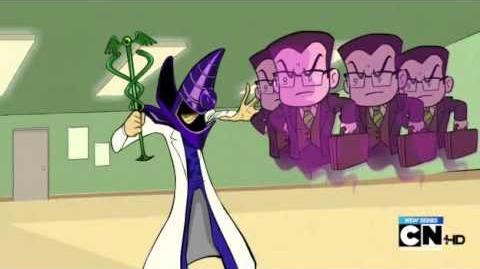 Grey's in Anime is a crossover between Grey's Anatomy and anime characters.
This segment is from MAD Season 1, Episode 3: 2012 Dalmatians / Grey's in Anime.
Summary
Attractive doctors attempt to heal a patient using their anime powers.
References
Characters
Cristina Yang
Meredith Grey
Patient
Owen Hunt
Alexandra Caroline "Lexie" Grey
Derek Shepherd
Checkaflu
Alex Karev
Calliope Iphegenia "Callie" Torres (O'Malley)
Robotic Surgeon
Transcript
[Scene begins with Cristina Yang and Meredith Grey running into the clinic with a sick patient on the wheelchair.]
Cristina Yang: Get me a hospital bed!
Meredith Grey: Is the patient hurt?
Cristina Yang: No, for me! I'm exhausted from pushing him here.
[Scene goes to patient in bed]
Patient: [In bed] I don't feel so good.
Owen Hunt: Quick! Give him 20ccs of sodium phosphate.
Lexie Grey: I'll make it a blind CC so he doesn't know who sent it.
Patient: OOOOOOH!
Derek Shepherd: Stand back. I'm putting him under with a sedative.
[Derek pinches the patient with a needleful of sedative]
Patient: Uhh. That's strange. You all look so different all of a sudden.
[Right on cue, the sedative kicks in as, in a ripple effect, the Grey's crew change their animation style into... Japanese Anime.]
[Title card: Grey's in Anime]
[Fast techno music starts playing.]
Owen Hunt: Quick! What are his vitals?
Meredith Grey: They're... over 9,000!
Owen Hunt: What?! 9,000?! That's impossible! I'm gonna have to power up [With echo] to Super Surgeon!
Patient: Where'd his shirt go?
Lexie Grey: I'll prep this surgery by playing the card Dark Physician.
[With that, the Dark Physician is summoned]
Lexie Grey: He has 3,000 [3,000 box appears] healing points and is a Medicine-type monster.
Alex Karev: Not so fast, Lexie! I already played the trap card Malpractice Suit, [Businessmen appear] destroying your Dark Physician.
Lexie Grey: Alex, what are you doing?! We have to work together!
Alex Karev: No, Lexie. I'll defeat you and heal this patient all by myself.
Meredith Grey: He's up to 10,000! We're losing him!
Derek Shepherd: We need to shock him. Go, Checkaflu!
[Checkaflu comes out]
Checkaflu: Checkafluuuu!
[BZZT! The patient is treated to defibrilation, Checkaflu style.]
Derek Shepherd: That brought us some time.
Callie Torres: Oh, no! Look! [Scene goes to patient with a purple Espercrystal sticking out, also Pedobear appears] He's got the final fragment of the Espercrystal stuck in his chest.
Lexie Grey: Of course. That explains the poisoning of his soul.
[Face appears quickly and disappears quickly]
Derek Shepherd: There's only one thing that can dislodge an Esper Shard.
All together: Metamorph to Robotic Surgeon!
[Scene goes to the team metamorphing into robotic surgeon.]
Robotic Surgeon: Arrow of Light!
[The Arrow of Light airs at patient which creates an explosion.]
[Scene goes back to the normal Grey's Anatomy world - heavily damaged by the anime experience - and music ends.]
Patient: What the heck happened?
Meredith Grey: Oh, you just needed your appendix out. You're fine now.
Patient: But-- But-- Checkaflu...
Derek Shepherd: Bless you.
Trivia
Antagonist: Alex Karev
This is the first time Yu-Gi-Oh! was spoofed. That is an achievment.
The Dark Physician has 3000 atk points while the real "Dark Magician" only has 2500 atk points.
At the start, the patient's shirt had a cat on it.
When Cristina was put in bed, she had a teddy bear.
There's a point when Karl Marx, Vladimir Lenin and Leon Trotsky can be seen dancing in the background.
The crew turned mostly like this:

Owen as Vegeta (Dragon Ball)
Meredith as Usagi Tsukino (Sailor Moon)
Lexi and Alex as Yugi and Seto Kaiba, respectively (Yu-Gi-Oh!)
Derek as Ash (Pokémon)

The Over 9,000! joke is a parody of Vegeta saying that. Watch video here.
After the Dark Physician is defeated, it goes to Lexie and it shows a Wario-likeman and Panda Caramelldansen.
Checkaflu is an obvious parody of Pikachu.
The part where Owen turns into Super Surgeon was also used in season 2's main titles.
After Checkaflu shocks the patient, it goes to Derek in a background saying Dance in many forms and a cactus and man dancing too.
When the patient has the purple espercrystal stuck to its chest, a green pedobear and some sushi dancing are shown too.

It is odd for pedobear to be referenced, as he is not appropiate for children or from an anime.

A blue monster with two teeth is a parody of the Japanese NHK mascot "Domo".
After the scene with the patient having the purple espercrystal, Lexie is shown with Japanese writing.
A face appears quickly between Lexie and Derek and quickly disappears.
When the scene goes to Derek talking how to cure him, the background has Sugar, Do your Homework, and a 1-Up Mushroom, also businessmen are dancing.
When the crew turns into robotic surgeon, it appears the following:

Lexie turned into the hands
Derek turned into the head
Owen turned into a remote
Meredith turned into chairs (feet)
Blue domo turned into the body

A dragon that resembles Shenron from Dragon Ball is shown in the background where the robotic surgeon appeared.
If you look more closely at the brief pictures flashing (before the parody of Voltron/Soul Eater), you can see a Smurf's head.
Antagonists: Grey's Anatomy Gang
Protagonists: Le Purple Espercrystal
Lexi is the only character representing an anime character of the opposite gender (Lexi is a girl, while Yugi is a boy).
Pokemon is originally is videogame, but Final Fantasy 6,super mario series is not anime, they just only videogame.
Community content is available under
CC-BY-SA
unless otherwise noted.