Summary of Movie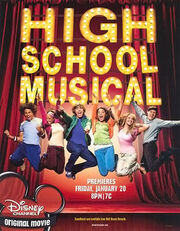 High School Musical
is a 2006 American television film, first in the
High School Musical
film franchise. Upon its release on January 20, 2006, it became the most successful film that Disney Channel Original Movie (DCOM) ever produced,with a television sequel
High School Musical 2
released in 2007 and the feature film
High School Musical 3: Senior Year
released to theaters in October 2008. It is the first Disney Channel Original Movie to have a theatrical sequel. The film's soundtrack was the best-selling album in the United States for 2006.
High School Musical was Disney Channel's most watched film that year with 7.7 million viewers in its premiere broadcast in the US, until August's premiere of The Cheetah Girls 2, which achieved 8.1 million viewers. In the UK, it received 789,000 viewers for its premiere (and 1.2 million viewers overall during the first week), making it the second most watched program for the Disney Channel (UK) of 2006. On December 29, 2006, it became the first Disney Channel Original Movie to be broadcast on the BBC. Globally, High School Musical has been seen by over 225 million viewers.
With a plot described by the author and numerous critics as a modern adaptation of Romeo & Juliet, High School Musical is a story about two high school juniors from rival cliques – Troy Bolton (Zac Efron), captain of the basketball team, and Gabriella Montez (Vanessa Hudgens), a beautiful and shy transfer student who excels in math and science. Together, they try out for the lead parts in their high school musical, and as a result, divide the school. Despite other students' attempts to thwart their dreams, Troy and Gabriella resist peer pressure and rivalry, inspiring others along the way not to "stick to the status quo". Sharpay Evans (Ashley Tisdale), a drama queen and high school diva will do anything to sabotage the friendship between Troy and Gabriella and also get a lead in the school musical, assisted by her brother Ryan (Lucas Grabeel).
High School Musical was filmed at East High School located in Salt Lake City, Utah, the auditorium of Murray High School, and Downtown Salt Lake City. Murray High School was also the set of several other Disney productions: Take Down (1978), Read It and Weep (2006), Minutemen (2008) and High School Musical: Get in the Picture (2008).
For more information about the movie, visit here or here.
Appearances in Show
Community content is available under
CC-BY-SA
unless otherwise noted.