Hip Hop Hobbit / The Monday Project is the 21st episode of MAD Season 3, and the 73rd overall episode of MAD.
"
Wait a minute, is this cheese sause
"

— Cauliflower from The Perks of Being a Cauliflower
Episode Summary
Hip Hop Hobbit: Bilbo embarks on an old-school quest of rhyming and break dancing.
The Monday Project: Garfield vows to get his life together.
Segments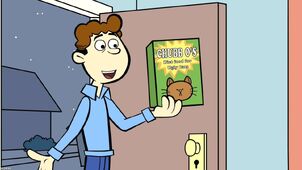 MADvent Calendar - Been breaking New Year's resolutions for a month? Here are some MAD moments you may have missed:

Sunday, 4:00 PM: Alfred E. Neuman praises his own television show by calling it filth.
Tuesday, 9:00 PM: After learning that three Lord of the Rings celebrities share January birthdays, the Zodiac sign is changed from Capricorn to Aragorn.
Saturday, 10:00 AM: The groundhog laughs at his own puppet shadows, which means many more seasons of this!

Hip Hop Hobbit (Movie Parody of the Hobbit: An Unexpected Journey) (MAD Music segment)
Animated Marginals segment - A bird needs more lot of birds to grab the rhino.
Is Santa Coming or Not? (Animated by Mike Wartella)
Why Kristen Stewart Never Laughs... or Smiles (Spoof on Kristen Stewart)
MAD Security Cam - Zoo (MAD Security Cam segment) (Stop-motion Cartoon)
The Perks of Being a Cauliflower (Movie Parody of the Perks of Being a Wallflower) (Ad Parodies segment)
Spy vs. Spy - Retina Scanner (Spy vs. Spy segment) (Stop-motion Cartoon)
Animated Marginals segment - A princess kisses a frog and it turns into Alfred E. Neuman and the princess faints.
Tinky Turner's Self Elf Book (Ad Parodies segment)
Ant Funeral (Cartoon)
The Monday Project (TV Parody of the Mindy Project / Comic Parody of Garfield)
5-second Cartoon - (from Hip Hop Hobbit) Bilbo raps with Gollum. (5-second Cartoon segment)
Gallery
Main article: Hip Hop Hobbit / The Monday Project/Gallery
Transcript
Main article: Hip Hop Hobbit / The Monday Project (Transcript)
Trivia
Voices