This ad is a parody of Iron Man and Coppertone.
This ad is from the episode The Straight A-Team/Gaming's Next Top Princess.
Transcript
Announcer: Do you hate trying to figure out what SPF you need on your sunscreen?
Then why settle from an coppertan when you can get an Irontone? Iron Man's Irontone!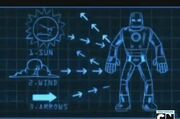 Iron Man: Hi, I'm Iron Man. (Fires a pulsar ray.) And if there's one thing more damaging than my pulsar rays, it's the harmful ways of the sun. That's why I designed the perfect sunblock, Irontone. Created by a scientist in the cave, Irontone keeps up the harmful elements found on the beach. Forget about those messy lotions, Iron is just 200 pounds of sun deflecting iron. You can lie there all day and not worry about the sun.
Man: Actually, I can't get up!
Iron Man: Irontone protects you on the beach, at playing, and even on your boat. (CRASH!) And with Irontone, no more worrying about your protection will wash off. Stay in all day if you want, and when you're done, you'll finally have that golden brown you've been striving for. Otherwise known as rust. Irontone, the strongest sunblock not on the market.
Trivia/Goofs