Line 119:
Line 119:
 
 
 

==External Links==

 

==External Links==

−

* [http://www.imdb.com/title/tt1718438/ Mad] at Internet Movie Database

+

* [http://www.imdb.com/title/tt1718438/ ] at Internet Movie Database

 

* [http://www.cartoonnetwork.com/tv_shows/mad/index.html MAD] at Cartoon Network

 

* [http://www.cartoonnetwork.com/tv_shows/mad/index.html MAD] at Cartoon Network

 

[[Category:Browse]]

 

[[Category:Browse]]
---
Latest revision as of 00:49, 1 August 2020

MAD is a comedy cartoon on Cartoon Network, based on MAD Magazine from Warner Bros. Animation and executive producer Sam Register (Teen Titans, the Batman, Justice League Unlimited, Ben 10, Batman: the Brave and the Bold). The series features short animated vignettes about current television shows, films, games, videos and other aspects of popular culture. Much like MADtv's early years, this series also features appearances by "Spy vs. Spy" and Don Martin cartoons. Producing are Kevin Shinick (Robot Chicken) and Mark Marek (KaBlam!, the Andy Milonakis Show).
Cast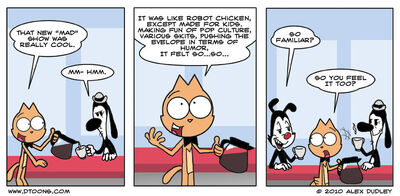 Cast members
Guest voices
External Links
Community content is available under
CC-BY-SA
unless otherwise noted.