This ad is a parody of
Mickey Mouse
and
Mouse Extermination Service
.
This ad is from Spy vs. Spy Kids / The Superhero Millionaire Matchmaker.
Summary of Skit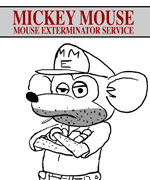 Original Concept
Mickey Mouse is ready to exterminate some mice for pest control.
References
Characters
Jerry Mouse
Speedy Gonzales
Remy
Fievel
Jaq and Gus
Transcript
Mickey Mouse: Hey, everybody! Room's got out? Sounds like you need the Mickey Mouse Mouse Exterminator Service!
(Scene shows a sad mouse playing a violin. Mickey Mouse breaks the air vent door.)
Mickey Mouse: Excuse me. (covers his hand to block the screen to only show darkness)
Trivia
This is the second appearance of Mickey Mouse.
Ironically, Mickey is a mouse but he is killing other mice any way. `The same goes for Pigs advertising BBQ.
Community content is available under
CC-BY-SA
unless otherwise noted.