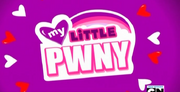 My Little PWNY is a take-off of My Little Pony: Friendship is Magic.
This ad is from the episode Addition Impossible / New Gill.
Transcript
Announcer: Everyone loves ponies! They're cute, they're magical, and they all want to own one! But this summer, they're going to-... OWN YOU!!!
(Applejack gives boy a wedgie.)
PULL! (PWNED!)
Announcer: It's My Little PWNY, the show about some wild ponies who like to horse around!
(Pinkie trips a girl.)
Pinkie Pie: Is that your dolly?
Girl #1: Yeah, thanks!
(Pinkie kicks the girl.)
KICK! (PWNED!)
Announcer: So if you like ponies...
Twilight Sparkle: How much do you like ponies?
Girl #2: *Holds out arms* This much!
(Twilight shoots girl with her horn.)
ZAP! (PWNED!)
Announcer: Prepare to be PWNED!
'Cause at this rate...
Applejack: Psst! Can I tell you a secret?
Kid: Sure!
(Applejack puts boy's head in her mouth.)
CHOMP! (PWNED!)
Announcer: You'll be glued!
Ponies: WHAT!!!!!?????
Announcer: To the TV screen! (PWNED!)
With My Little PWNY!
(Segment ends)
Trivia
Fluttershy, Rarity, Spike and Starlight Glimmer did not appear in this advertisement because of Fluttershy, Rarity and Starlight Glimmer being gentle, Spike not being a pony,.
The kid at the end of this skit resembles Dave from the Dave's Life series.
Community content is available under
CC-BY-SA
unless otherwise noted.