Papa / 1600 Finn is the fifth episode of MAD Season 4, and the 83rd overall episode of MAD.
Episode Summary
Papa: A family is haunted by a small, blue menace known as Papa Smurf, based on the horror movie mama
1600 Finn: Finn isn't just a human, he's the son of the President of the United States.
Segments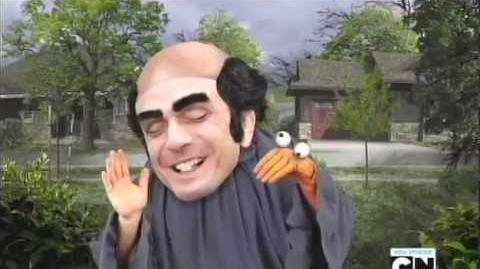 MADvent Calendar - Been picking on Justin Bieber all month? Here are some MAD moments you may have missed:
Papa (Movie Parody of Mama / Spoof on Papa Smurf from the Smurfs)
Animated Marginals segment
Spin the Wheel & Win the Cash Before Time Runs Out & Also Maybe Win Prizes! (Animated by Mike Wartella)
Snoozeum (Ad Parodies segment)
Bald Eagle's Wig (Cartoon)
Snake Dating his own Tail (Live-action Cartoon segment)
The Amazing Man-Spider (TV Parody of the Amazing Spider-Man) (Animated by Nate Theis) (Ad Parodies segment)
MADitorial - There Aren't Enough Marshmallows in Cereal (Animated by Jorge R. Gutierrez) (MADitorial segment)
Cat Sews Up a Curtain Then Scratches It (Cartoon)
Spy vs. Spy - Wall Door (Directed by Tennessee Reid Norton) (Spy vs. Spy segment) (Stop-motion Cartoon)
Animated Marginals segment
Island in Heaven (Cartoon)
1600 Finn (TV Parody of 1600 Penn / Spoof on Finn the Human from Adventure Time)
5-second Cartoon - (from 1600 Finn) The White House was engulfed in flames. (5-second Cartoon segment)
Gallery
Main article: Papa / 1600 Finn / Gallery
Transcript
Main article: Papa / 1600 Finn (Transcript)
Trivia
This is the only time Mama and 1600 Penn showed up, and the first appearance of the MADitorial segment.
This is the fourth time a Foreign film gets spoofed on MAD. The previous ones were:

Les the Miz / The Lex Factor (the previous episode)

This is the sixth episode of MAD to feature a guest star (Stan Lee). The previous episodes were:

This is the seventh time Adventure Time gets parodied.
This is the ninth time the Smurfs appeared on MAD.
This is the 11th episode of MAD to have only one Mike Wartella segment.
This is the 44th time Spy vs. Spy was done in stop-motion.
Voices
Community content is available under
CC-BY-SA
unless otherwise noted.