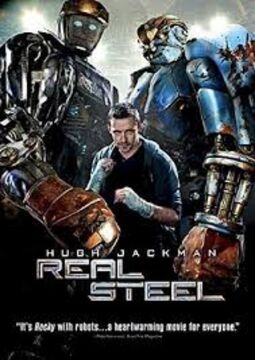 Summary of Movie
Real Steel is a 2011 American science fiction sports drama film starring Hugh Jackman and Dakota Goyo and co-produced and directed by Shawn Levy. The film is based in part on the 1956 short story "Steel" by Richard Matheson, though screenwriter John Gatins placed the film in U.S. state fairs and other "old-fashioned" Americana settings. Real Steel was in development for several years before production began on June 11, 2010. Filming took place primarily in the U.S. state of Michigan. Animatronic robots were built for the film, and motion capture technology was used to depict the brawling of computer-generated robots and animatronics. Real Steel was publicly released in Australia on October 6, 2011, and in the United States and Canada on October 7, 2011, to mixed reviews. The film was nominated for the Academy Award for Best Visual Effects at the 84th Academy Awards.
For more information about Real Steel, visit here.
Appearances in MAD
Community content is available under
CC-BY-SA
unless otherwise noted.