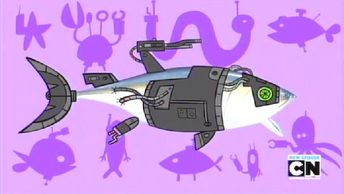 SpongeBorg SquarePants is a segment from the episode G.I. E.I. Joe / Dog with a Captain's Log.
It is a parody of Nickelodeon's SpongeBob SquarePants.
Characters
Pearl the Whale
Gary
Plankton
Sandy Cheeks
Bikini Bottomites
Fish
Plot
SpongeBob is a cyborg who turns his friends into cyborgs.
Trivia
Many of the characters look similar to their actual show designs, but Mr. Krabs, Pearl, and Squidward are the least accurate.

In this sketch, Squidward has a green body, a light blue nose, and no shirt. In the actual series, his body and nose is turquoise and wears a brown shirt.
Also in this sketch, Mr. Krabs wears a mustache, has circular eyestalks, and a green Speedo. In the actual show, he has no mustache, tall eyestalks, a light blue shirt, purple pants, and a belt.
Also in this sketch, Pearl is a male, but Pearl is a female in the actual series.
Sandy Cheeks is seen briefly running away from SpongeBorg and in the end.

Also, this is Sandy's first debut in MAD.
Along with her, it's also Squidward's first debut.

2nd time Mr. Krabs, Gary and Plankton appear on MAD.
3rd time Patrick appeared. The first was in ¡AY Carly!, and then in iChronicle.