This ad parody segment is from the episode
Dances with Wolverine: A Footloose Parody / Tater Tots & Tiaras
.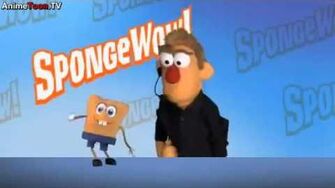 SpongeWow! is a parody of ShamWow! and SpongeBob SquarePants.
Summary of Skit
The puppet, as host, talks about the new SpongeWOW!
Characters
Transcript
Vance: Hey, I'm Vance, and if you got dirt, I've got news for you: (in slow motion) YOU'RE A SLOB!!! (normal) Heh, just kidding, but there's no better way to clean up messes and entertain your kids than with SpongeWOW!
SpongeWOW: Hi, everybody!
Vance: You ready to clean the house, SpongeWOW? (pulls out a glass of grape juice)
SpongeWOW Am I ev-- Wait, what? I was told there was a party!
Vance: (purposely knocks down the glass of juice) Uh-oh! How'd that happen?
SpongeWOW: Well, you just knocked over those bottle---- (Announcer grabs SpongeWOW!) Hey, hey, hey!!
Vance: Luckily, SpongeWOW can absorb anything.
SpongeWOW: (gargled) Watch it!!
Vance: You mean watch it disappear? HEY-OH!
SpongeWOW: Don't "Hey-OH" that!
Vance: See, clean in seconds! But would you look at this? Looks like someone accidently spilled a dozen bottles of non-FDA approved hot sauce all over this counter.
SpongeWOW: "Someone"?!? It was you!! (Announcer grabs SpongeWOW!) Hey, hey, hey! What are you--
Vance: Not a problem for SpongeWOW!
SpongeWOW: Speak for yourself! It's burning!!!
Vance Did you know that the average person spends up to $900 a week on napkins?
SpongeWOW: That's a lie!!!
Vance: Well, for just $19.99, you get a SpongeWOW that you can use over and over again.
SpongeWOW: Kill me now...
Vance: And if you wanna clean those floors while also amusing those tweens, try our new Moppit.
Moppit: Hey kids, someone having a birthday?
SpongeWOW: RUN!!!
Moppit: (Screams and runs away)
Vance: Get back here! The SpongeWOW and Moppit, available where unsuspecting kids' characters hang out.
Trivia
The MasterCard sign at the end of the ad has no words on it. Also, the colors are swapped and the middle part is transparent instead of red and yellow stripes.
SpongeWow! has blue pants instead of brown pants. Also, they are just plain blue pants.
Moppit is a spoof of the Muppets.
Antagonist: Vance
Community content is available under
CC-BY-SA
unless otherwise noted.