Summary of TV Show
The Grim Adventures of Billy & Mandy often referred to as simply Billy and Mandy is an American animated television series that aired on Cartoon Network. The show began in 2003 and is a spin-off of the show Grim & Evil. The Grim Adventures of Billy & Mandy follow two children: Mandy & Billy who after winning a game to save Billy's pet, gain the Grim Reaper as their best friend forever. The show lasted from June 13, 2003 to November 9, 2007 (though due to a failed spin-off, it ended by default on October 12, 2008), in all six seasons with 71 episodes were made in its original run. In addition to the episodes three movies, two specials, and nineteen shorts were made, with three award wins for the series as a whole. Billy and Mandy has also been made into a video game as well as various licensed merchandise.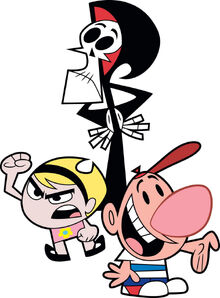 For more information about The Grim Adventures of Billy & Mandy, visit here.
Appearances in MAD
Community content is available under
CC-BY-SA
unless otherwise noted.