Summary of Book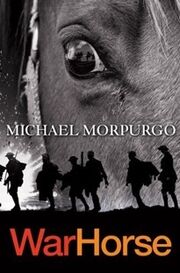 War Horse
is a children's novel by
Michael Morpurgo
. It was first published in Great Britain by
Kaye & Ward
publishers in 1982.
At the outbreak of World War I, Joey, young Albert's beloved horse, is sold to the cavalry and shipped to France. His rider Captain Nicholls is killed while riding Joey. The horse is soon caught up in the war; death, disease and fate take him on an extraordinary odyssey, serving on both sides before finding himself alone in No man's land. But Albert cannot forget Joey and, still not old enough to enlist in the British Army, he embarks on a dangerous mission to find the horse and bring him home to Devon.
The book has also been made into a play adapted by Nick Stafford. The play, also called War Horse, was staged at the Olivier Theatre, National Theatre in London. The production opened on 17 October 2007 and was met with critical acclaim — its use of life-size puppets of horses from the Handspring Puppet Company won an Olivier Award, Evening Standard Theatre Award and London Critics' Circle Theatre Award for design. In February 2010 it was revealed that the play would transfer to Broadway in New York City, New York, United States.
In May 2010 it was announced Steven Spielberg would direct the movie adaptation with Richard Curtis and Lee Hall writing the screenplay. Jeremy Irvine was cast in the lead role. The full cast was revealed on 17 June 2010. It was released on the 25th of December 2011.
For more information, visit here, here, or here.
Appearances in MAD
Community content is available under
CC-BY-SA
unless otherwise noted.