Summary of TV Show
Yo Gabba Gabba!
is an American children's television show currently airing on the
Nick Jr.
cable network in the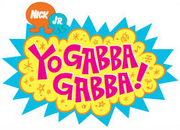 United States and the Nick Jr. networks in the United Kingdom & Ireland, Italy and Australia as well as Treehouse TV network in Canada. Created by Christian Jacobs (lead singer of the Aquabats) and Scott Schultz, the show is produced by The Magic Store Productions and W!LDBRAIN. The series premiered August 20, 2007 on Nick Jr. and began broadcasting February 23, 2008 on Noggin, now Nick Jr..
On April 30, 2008 the television show received a Daytime Emmy nomination for Outstanding Achievement in Costume Design/Styling. Although Yo Gabba Gabba was created as a show for young children, it has slowly become a sensation among teenagers, college students and even some parents who are entertained by its style, bright colors, enjoyable story lines, and entertaining music performed by popular bands.
For more information about Yo Gabba Gabba!, visit here or here.
Appearances in Show
Episode 3 (55) "Hey, whatever happened to that guy from that TV show I kinda remember from when I was a kid?": Fred Flintstone (The Flintstones) serves as the host of "¡Ya bABBA dABBA!"
Community content is available under
CC-BY-SA
unless otherwise noted.