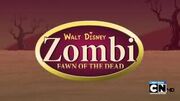 Zombi is a take-off of Disney's Bambi.
This ad is from MAD Season 1, Episode 1: Avaturd / CSiCarly.
Summary
Walt Disney Pictures presents "Zombi", a movie about Bambi's mom, who's now a zombie. Just when you thought a hunter shot Bambi's mom, SHE'S BACK! AND READY TO GET REVENGE! This DVD is part of the "Fawn of the Dead" collection for a limited time only! Coming soon from Walt Disney Pictures: Pinocchio 2: Boy, Oh Boy, Real Life is Hard!
References
Characters
Narrator (Not in story)
Bambi
Thumper
Flower
Bambi's Mom (Zombi)
Hunter
Transcript
(The ad starts with the short version of the Disney DVD logo.)
Narrator: Disney's direct-to-DVD presents...
(Cut to Bambi, Thumper and Flower in a graveyard.)
Bambi: I miss you, Mom.
Thumper: It's good to share your feelings.
(Just then... a rotten deer leg bursts from the ground.)
Bambi: Mommy?
(Soon, out of the hole came out Bambi's mom - what's left of her, anyway - freshly risen from the grave as a messed up Deer Zombie.)
Zombi: [moans]
All Animals: AAAAAAAAAAAAAAAHHHHHHHHHH!!!
(Scene goes to a close-up of Zombi.)
Narrator: ...Zombi.
(All three are running from Zombi.)
Thumper: My heart won't stop thumping!
Flower: I think I just skunked myself...
(Scene goes to a forest with dead trees, orange-ish grass, and a red sky.)
Hunter: What the--?!
Zombi: [moans]
Narrator: For a limited time only...
Hunter: I didn't mean anything by shooting you! It's just a sport!
Narrator: ... Because pretty soon, this DVD goes back into the Vault.
(Everyone slams the Masoleum door shut, with Zombi and the hunter inside.)
Bambi: Go get him, Mom.
Narrator: Zombi -- part of the Fawn of the Dead DVD Collection!
Zombi: [growls]
[screams]
(Segment ends and the scene goes to Celebrity Birthdays.)
Trivia
Alludes to the fact that Bambi's mother was shot by hunters.
The hunter wears clothes similar to Elmer Fudd from Looney Tunes.
When the announcer said that the DVD is going back in the vault soon, then that must mean that the movie release is a either a Platinum Edition or a Diamond Edition.
Community content is available under
CC-BY-SA
unless otherwise noted.